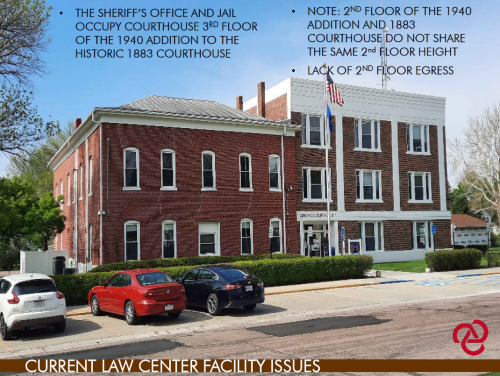 Built in 1883 the Dixon County courthouse has served our residents well. But did you know that the sheriff's office and jail occupy the 3rd floor of the 1940 addition to the historic courthouse and that the 1940 addition doesn't share the same floor height on the 2nd floor?
There are issues with the current building that create safety concerns for our county employees, law officers and our residents. The County Board of Supervisors invited county, city and village representatives to tour the courthouse and help with an assessment of the historic building. The county held an open house in March of 2022 and then a Citizen's Committee was formed. This group has been meeting since May of 2022 and has visited both the Thurston County Jail and the Antelope County Jail. Prochaska and Associates, Omaha, has been leading the discussions.
The committee meets the third Thursday of the month and continues to discuss the needs of Dixon County. Please view the minutes and current plans below.
Dixon County Courthouse and Jail - Needs Assessment
Meeting Documentation
News Article - Dixon County seeks to replace aging jail, courthouse
Option One Site - Current -5-8-23
January 19, 2023 - Combined Presentation
Options Combined - 11-17 Meeting